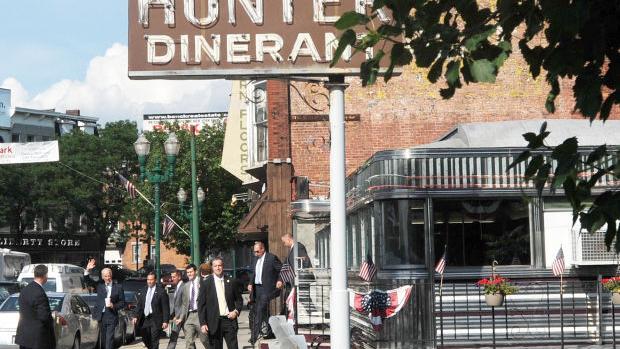 Politics
Joe Biden at CNN town hall: Father-in-law offered me Auburn restaurant
Instead of becoming a U.S. senator, vice president and now president, Joe Biden could've been an Auburn restaurateur. 
Biden shared the story during his appearance at a CNN town hall meeting in Cincinnati on Wednesday.
"My father-in-law … had a restaurant that was in a town called Auburn, about 20,000 people, which was at a flagship 24-hour-a-day restaurant … and he offered it to me, which I would have been making five times what I would in law school to try to keep me in Syracuse," Biden said. 
Biden was referring to Robert Hunter, who owned Hunter Dinerant on Genesee Street in Auburn. Biden, who attended Syracuse University law school, married Hunter's daughter, Neilia. Neilia Hunter Biden was killed in a car crash in 1972. 
What discouraged Biden from entering the restaurant business was spending time in the Hunters' home when they received phone calls about an employee not showing up for work. 
While he opted for a political career, Biden has made return trips to central New York and the diner that was once owned by his late father-in-law. In 2014, he attended his niece's wedding at St. Mary's Church in Auburn. After the ceremony, he stopped at Hunter Dinerant for a chocolate milkshake and posed for photos with customers and staff. 
Source link