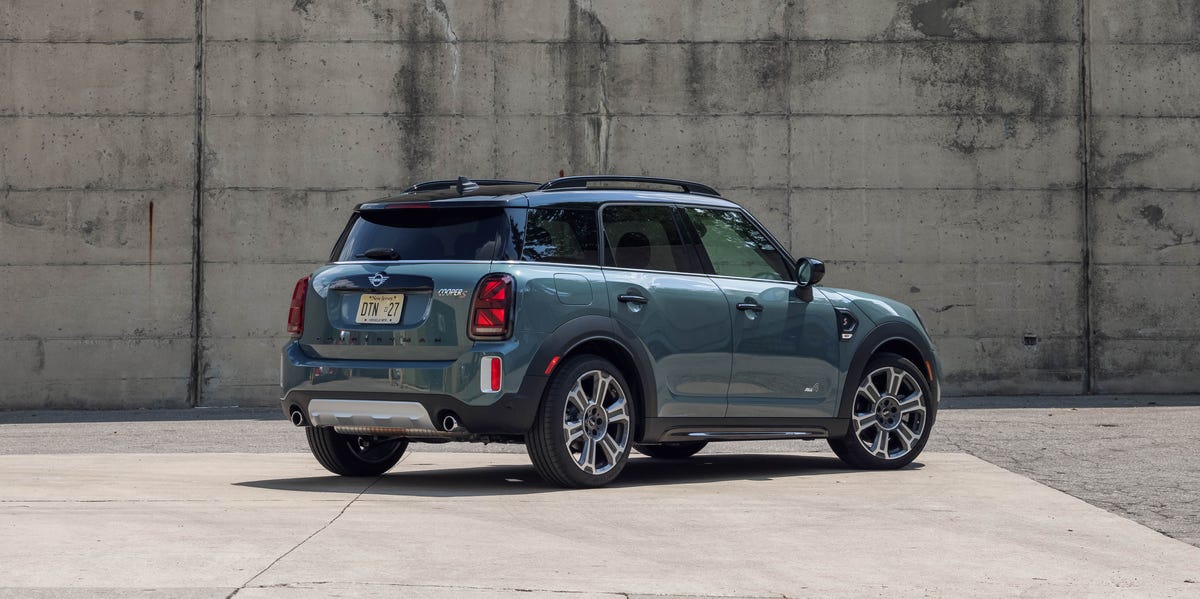 Auto News
View Photos of the 2021 Mini Cooper Countryman S ALL4
Michael SimariCar and Driver
1 of 45
The Countryman S is powered by a turbocharged 2.0-liter four-cylinder that makes 189 horsepower and 207 pound-feet of torque. Front-wheel-drive versions feature a seven-speed dual-clutch automatic transmission while all-wheel-drivers employ a conventional eight-speed automatic.
2 of 45
Our Countryman S test car ran to 60 mph in 6.7 seconds, accelerated from 50 and 70 mph in 5.4 seconds, and cleared the quarter-mile in 15.2 seconds at 91 mph.
3 of 45
The Countryman S feels quick around town, and we appreciated the responsiveness of its eight-speed automatic. However, its acceleration was less impressive at highway speeds.
4 of 45
The Countryman isn't as athletic as its smaller siblings, and our test car's 19-inch wheel-and-tire package contributed to a stiff ride.
5 of 45
The Countryman's cabin is fitted with nice materials and distinct design touches, such as the circular centerpiece on the dashboard. Not only does this feature house the touchscreen infotainment system, it's also surrounded by an illuminated ring that changes color with the drive mode, climate-control adjustments, and more.
6 of 45
Unlike other Minis, the Countryman has an elevated driving position that's actually 4.6 inches higher than the wagon-like Mini Cooper Clubman.
7 of 45
Despite an EPA-rated highway estimate of 31 mpg, our Countryman S example returned an impressive 39 mpg on our 75-mph fuel-economy test.
8 of 45
Along with a big back seat that can comfortably fit adults, the Countryman's cargo area can accommodate six carry-on suitcases behind the rear seats.
9 of 45
For the 2021 model year, Mini gave the Countryman some restyled exterior elements, updated interior features, and an enhanced infotainment system.
10 of 45
Every Mini comes with an impressive amount of complimentary scheduled maintenance that covers three years or 36,000 miles.
11 of 45
2021 Mini Cooper Countryman S ALL4
12 of 45
2021 Mini Cooper Countryman S ALL4
13 of 45
2021 Mini Cooper Countryman S ALL4
14 of 45
2021 Mini Cooper Countryman S ALL4
15 of 45
2021 Mini Cooper Countryman S ALL4
16 of 45
2021 Mini Cooper Countryman S ALL4
17 of 45
2021 Mini Cooper Countryman S ALL4
18 of 45
2021 Mini Cooper Countryman S ALL4
19 of 45
2021 Mini Cooper Countryman S ALL4
20 of 45
2021 Mini Cooper Countryman S ALL4
21 of 45
2021 Mini Cooper Countryman S ALL4
22 of 45
2021 Mini Cooper Countryman S ALL4
23 of 45
2021 Mini Cooper Countryman S ALL4
24 of 45
2021 Mini Cooper Countryman S ALL4
25 of 45
2021 Mini Cooper Countryman S ALL4
26 of 45
2021 Mini Cooper Countryman S ALL4
27 of 45
2021 Mini Cooper Countryman S ALL4
28 of 45
2021 Mini Cooper Countryman S ALL4
29 of 45
2021 Mini Cooper Countryman S ALL4
30 of 45
2021 Mini Cooper Countryman S ALL4
Advertisement – Continue Reading Below
This content is created and maintained by a third party, and imported onto this page to help users provide their email addresses. You may be able to find more information about this and similar content at piano.io
Source link